PRESERVED ONION IN VINEGAR
We produce high quality Preserved Onion in Vinegar (Acetic Acid). We have imported Washing, Grading & Sorting machines to make perfect size and quality of Preserved Onion in Vinegar. We also undertake customized orders.

We offer a wide range of quality products that are fresh, delicious and full of flavour. The pick of the farm is brought to you with the authentic taste preserved.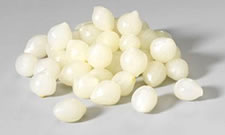 OUR PRODUCTS
We offer a wide variety of products rich in flavour and taste, the bounty of Indian soil. Our range includes:
Preserved Onion in Vinegar 8-15mm
Preserved Onion in Vinegar 15-21mm
Preserved Onion in Vinegar 20-25mm
Preserved Onion in Vinegar 25-30mm
MIN. QUANTITY ORDERED
20 FCL: 12.8-14.4 Mt (80 Barrel/Drum)